Corazon Patou von Traumberg "Tazzy"
Date of birt: 18.3.2020 - Breeder: Mgr. Jitka Kriegerbecková, Ph.D.
Dam: C.I.B. Alba Patou von Traumberg
C.I.B. Kora de Alba de los Danzantes x C.I.B. Covermount Big Block
x
Sire: Zagal de Alba de los Danzantes (Anglie, imp. Španělsko)
CH Kia de Alba de los Danzantes x CH Sketrick Next Connection
HD A, ED 0/0, OCD neg., PL 0/0, LTV 0 , CEO - CLEAR - no signs of hereditary diseases of eyes, DM N/P (healthly carrier), CMR 1 N/N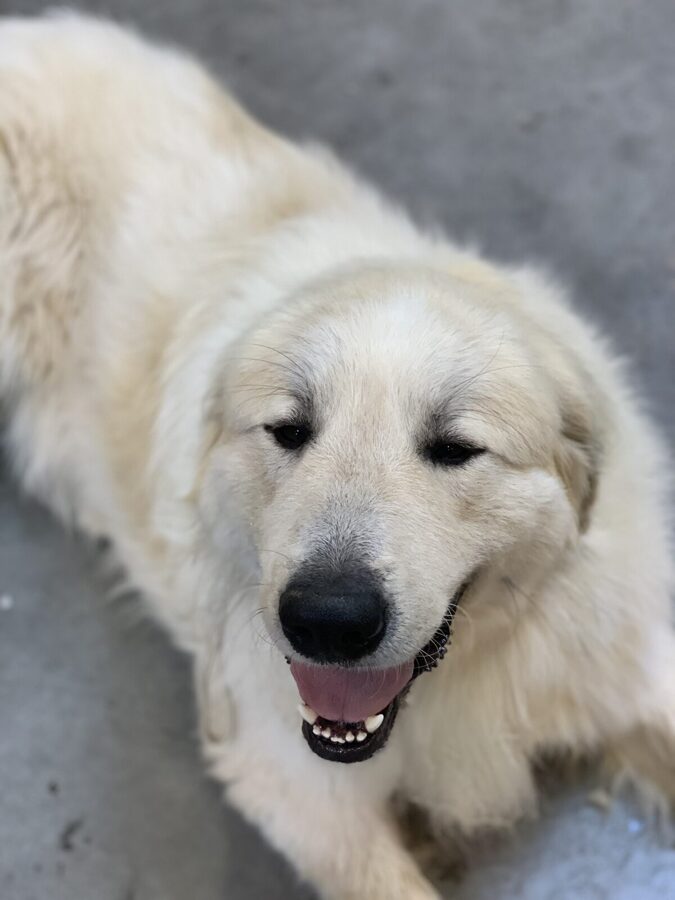 Test de comportement R.A.C.P. - excellent

Show results: CAJC, BOJ, 4x BOS, 6x CAC, 2x Club winner, 2x BOB - Vítěz plemene, 5x CACIB, 2x CAC ČMKU, 2x CAC (CZ), 2x CACA (A) res.CAC, CAC (Antw. Dt. Ch. VDH, DE), CAC KFUH (DE), Rheiland-Platz-Sieger (DE), Wels Sieger 2022 (A), Winter Trophy (A)

Word dog show 2021 (intermediate) - exc. 1, CAC
Results from specialists:
Club show KCHMPP 2023 (Judge: Elina Haapaniemi): V1, CAC, Club winner, BOS
CACIB Ludwigshafen, D (Judge: Mira Gehring, D): V1, CAC, CACIB, BOS
CACIB Praha 2022 (Judge: Elina Haapaniemi, Finsko): V1, CAC, CACIB, CAC ČMKU, BOS

CLUB JUNIOR CHAMPION ( KCHMPP)
CZECH CHAMPION
Tazzy lives on farm Alleman in Sopotnice with our Aiwa as LGD.
Litters sired by Corazon:
Kennel Du pays Vignoble, Germany (2022), 4 females, dam: Belle Du Grand Tendre
Kennel L'Antre du Patou, CZ (2022), 6 puppies, dam: Aiwa L'Antre du Patou
Kennel Vi'skaly's, Sweden (2023), 5 puppies, dam Cerbillona De Alba de los Danzantes "Ninja"